6 Questions...with Erika Welling
December 09, 2019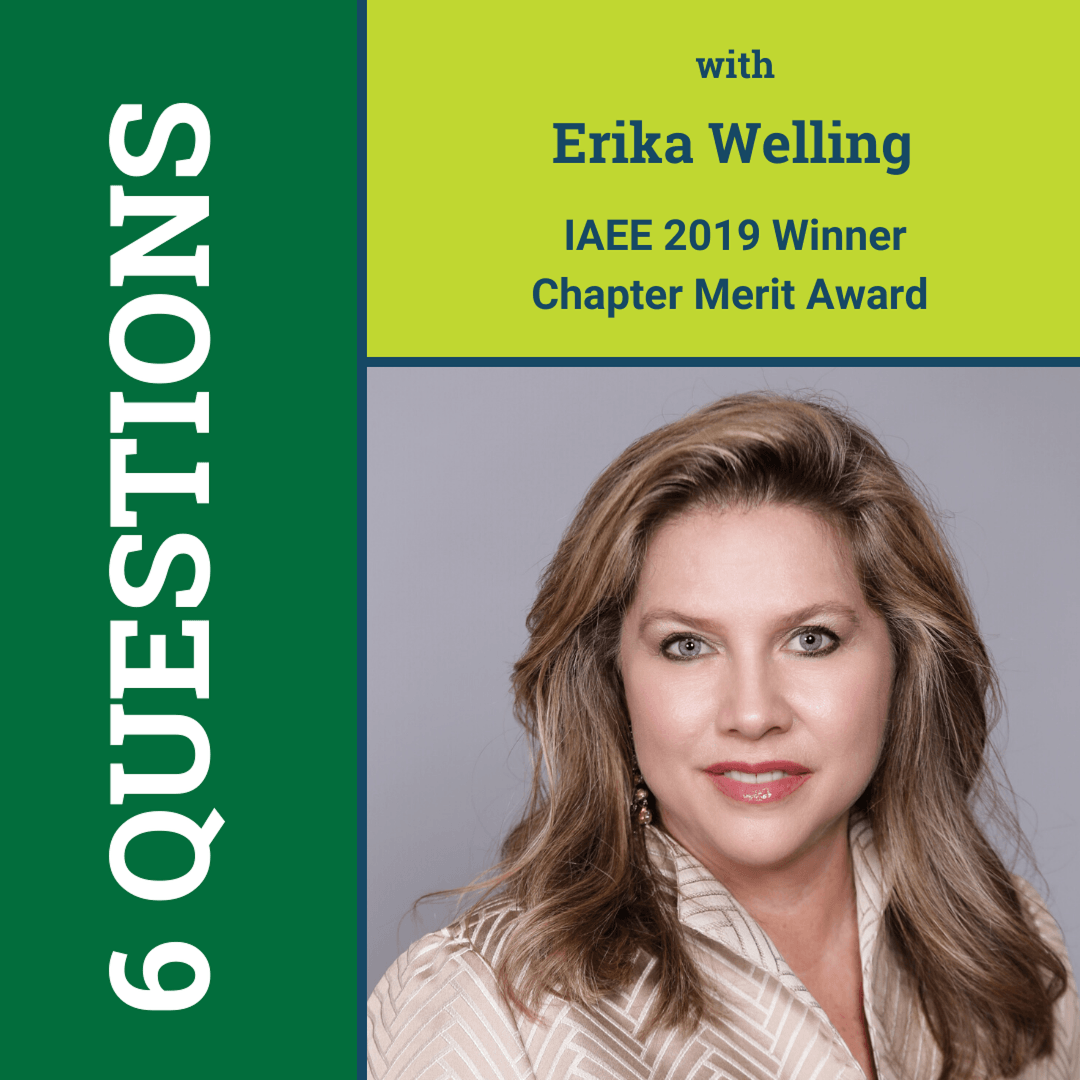 Last week, four members of the Southwest Chapter of IAEE were honored as 2019 IAEE Award Winners. We are leaving the formal profiles of each winner to IAEE HQ and instead, focusing on their personal stories and anecdotes of their work lives. Our final entry in this four-part series is Erika Welling, CEM, winner of the Chapter Merit Award.
SWIAEE: What's your job – what kinds of responsibilities do you have in your day-to-day work life?
Erika: I'm the General Manager for PRA Las Vegas. It is my luck to work with incredibly talented team, supporting their creativity and event production talents, and to see them continuously deliver successful events. Our office has higher than standard client satisfaction scores with over 3.9 out of 4. Super proud of the team!

SWIAEE: Why do you volunteer?
Erika: I really enjoy giving back and affecting positive change wherever I can. When we have successful events and create buzz for the Southwest chapter, it makes me proud. We have a fun and talented chapter board which makes volunteering even more enjoyable.
SWIAEE: What's your best client night out (like the Hangover and you may change the city and names to protect the not-so-innocent)?
Erika: A dear friend and client who is one of the world's top whisky experts and collectors worked with me to create a luxury Las Vegas Mob whisky tasting, speakeasy, and dine around experience. We started with a kidnapping of the VIP coach by mob characters and then on to visit original mob hangouts and heard first-hand accounts by iconic figures from the mob era including Oscar Goodman and Freddy Glussman. We were sipping rare whiskies poured by international renown experts and blenders at each stop and enjoying delectable dishes at historical award-winning restaurants where notorious gangsters such as Spilotro are reported to have had their last meal. It was so much fun to combine the rare luxury whisky world with old Las Vegas.
SWIAEE: What's the best international CEM story you have?
Erika: Thailand is the best at hosting CEM attendees and creating a fun well crafted experience. The class was super creative in all of the exercises. One group created a fictitious risqué incentive event complete with the CEO zip-lining from the top of a waterfall only in a thong and sponsor logos painted on his chest. We all loved the fun environment and yes these were all filmed.
SWIAEE: Who are your mentors? What'd they do for you?
Erika: There are so many industry friends whom I admire that have helped me along the way, and are or have been my mentor. I'd say early in my career it was Sandy Zechman who was Director of Marketing at The Reading Outlet Center, Reading PA when I was Assistant Director. This was an extremely busy attraction which would attract over 400 motor coaches in one day. In addition, Monique Michaels, Director of Marketing, Caesars Magical Empire when I was National Sales Manager. Both Sandy and Monique were strong women who understood all sectors of the hospitality industry well and how to encourage a young aspiring woman like me to excel and grow.
SWIAEE: What's the craziest event job you've ever had – one that you were "voluntold for" – not your normal everyday crazy?
Erika: The craziest incident happened on an outdoor event I was working. An intoxicated wife of a vendor accidentally dropped her phone in a porta-potty and her husband decided to dump the entire port-o-potty over to retrieve it...spilling waste and blue solution into the waterway surrounding the park. The big question is who would want to use the phone after that!?!?!?